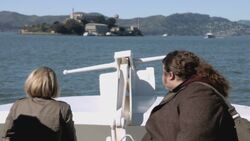 The Alcatraz series premiere finally has a date! Fox announced today their Midseason Schedule, which included the premiere date for the much anticipated new J.J. Abrams series.
Alcatraz will air its two-hour series premiere on Monday, January 16, at 8/9 Central. Starting on January 23, Alcatraz will air after House, at 9/10 Central, which will become its regular time slot. Alcatraz will conclude its first season on March 12, with a two-hour finale. Tim Kring's new sci-fi show, Touch, will start airing on March 19.
Source: Deadline
Ad blocker interference detected!
Wikia is a free-to-use site that makes money from advertising. We have a modified experience for viewers using ad blockers

Wikia is not accessible if you've made further modifications. Remove the custom ad blocker rule(s) and the page will load as expected.