The Encyclopedia Dedicated to Alcatraz
Currently 222 articles dedicated to

's TV series Alcatraz
About Alcatraz
Alcatraz is a drama series airing on Fox. It was concieved by Steven Lilien, Bryan Wynbrandt and Elizabeth Sarnoff, a former writer of Deadwood and Lost.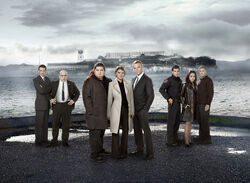 When Detective Rebecca Madsen is assigned to a grisly homicide case, a fingerprint leads her to a shocking suspect: Jack Sylvane, a former Alcatraz inmate who died decades ago. With her investigation impeded by government agent Emerson Hauser, Madsen teams up with Alcatraz expert and comic book enthusiast Dr. Diego Soto. They both soon discover that Sylvane is not only alive, but he's loose on the streets of San Francisco, leaving bodies in his wake, and does not appear to age. With the inclusion of Agent Hauser, they realize that Sylvane is only a small part of a much larger, more sinister present-day threat. For while he may be the first, it quickly becomes clear that Sylvane won't be the last prisoner to reappear from Alcatraz.
Ad blocker interference detected!
Wikia is a free-to-use site that makes money from advertising. We have a modified experience for viewers using ad blockers

Wikia is not accessible if you've made further modifications. Remove the custom ad blocker rule(s) and the page will load as expected.